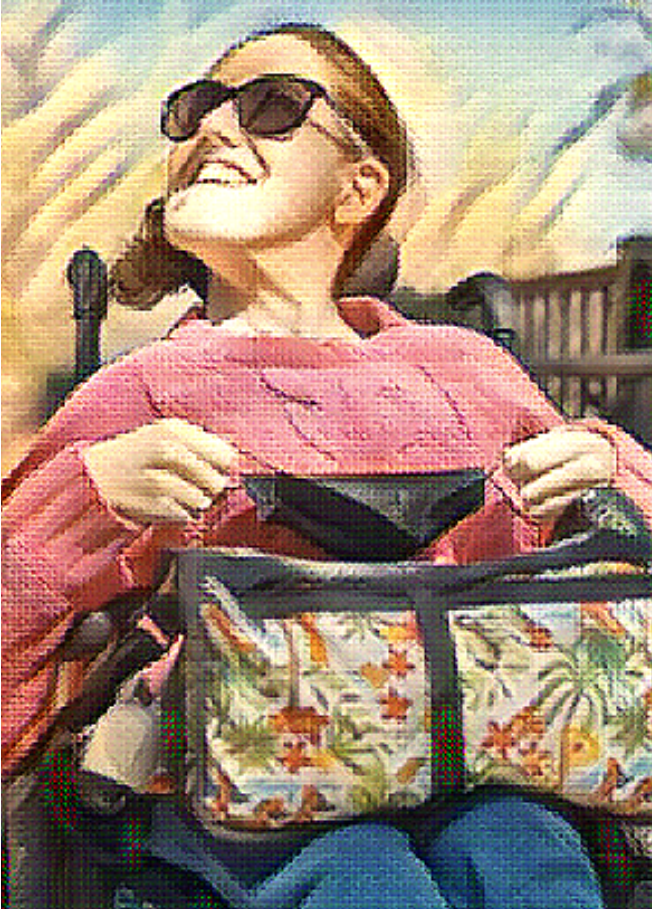 Nicole is a 14-year-old girl with cerebral palsy and other intellectual and developmental disabilities who lives at home with her mom, dad, and younger siblings. She uses a wheelchair and has a gastronomy tube (G-tube) for feeding and medication. Currently, Nicole receives 4 hours of support each week from a REM Nurse Case manager, who cleans Nicole's G-tube, but this doesn't cover help with feeding, grooming, bathing, and other daily care tasks. Nicole's parents are struggling to manage her care while working full-time and caring for her siblings. Lifting Nicole is getting harder, especially for her mom, so they think a lift may help with mobility and transfer. They would really like a break or some relief with care for Nicole, especially after school and on the weekends. Nicole's current priority category is Crisis Prevention on DDA's Wait List.
Nicole loves animals. She and her family have 3 cats – Larry, Moe, and Curly.
Nicole enjoys spending time with her little sisters.
She likes watching TV and listening to music.
Since she's a teenager, Nicole's parents want to help her plan for her future – services, living arrangements, and other needs.
Nicole lives at home with her parents and two siblings
Nicole's grandparents live locally and are a great emotional support to Nicole and her family but are unable to help with her daily care.
Cerebral Palsy
Gastronomy Tube (G-Tube)
Intellectual and Developmental Disabilities
Visual impairment
Speech problems
Nicole's parents are feeling overwhelmed and struggling to balance the full-time care Nicole needs with their other jobs and other responsibilities. They would be interested in respite care services to provide a break or some relief.
Nicole's parents need support with coordinating and organizing their schedule around many medical appointments and therapies.
Nicole needs some type of lift support as it is too hard for her parents to lift her on their own.
Her parents would like to find more activities and support for both Nicole and the family.
Although Nicole is on DDA's Wait List, there are still plenty of supports and resources we can offer to her and her family through our Coordination of Community Services program. Nicole's Coordinator of Community Services can:
Monitor Nicole's status on a quarterly basis, a frequency determined by DDA based upon her priority category of Crisis Prevention, to make sure that her health, safety, and overall circumstances have not changed.
Connect Nicole and her family with community-based resources.
Help Nicole and her family build up their natural support system to offer some additional support, breaks, and relief, and encourage self-advocacy skills.
Look for other home and community-based Waiver programs aside from the REM services Nicole is already receiving that could provide additional support, such as the Waiver for model children or the Community First Choice (CFC) program.
Petition DDA to make sure that Nicole keeps her spot on DDA's Wait List and continue to strive to access funding for her.
Complete a SSPT for Nicole, which will later serve as a guide to develop Nicole's PCP once funding becomes available.
Attend individualized education program or plan (IEP) meetings and help Nicole and her family find resources for school and her education
Educate Nicole and her family on DDA Waivers and services and how to start planning for their future accordingly.
Ensure Nicole has access to proper medical care and that her medical needs are addressed
Learn more about our Coordination of Community Services program here.