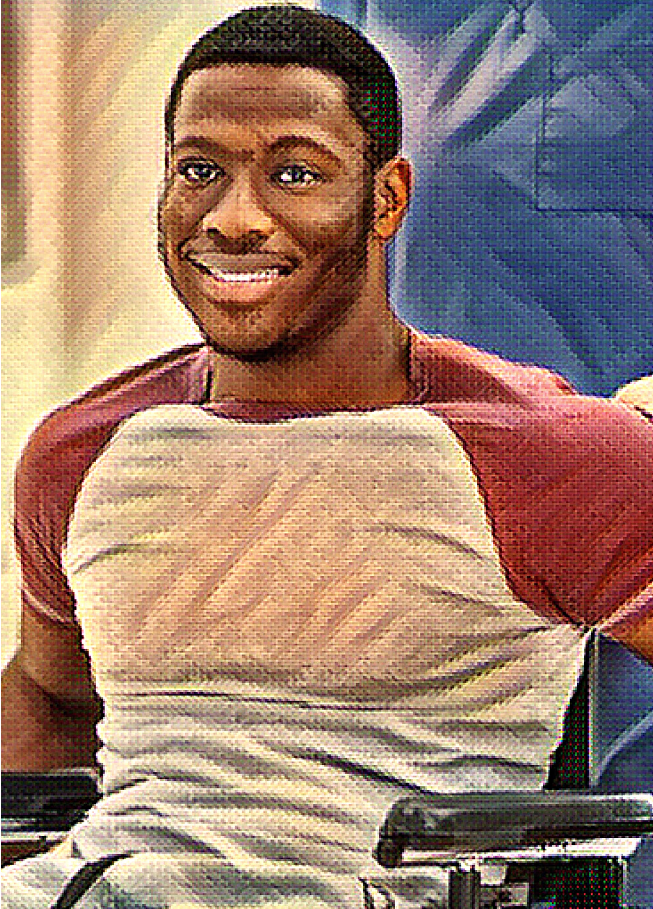 Terrence is 28 years old. While serving as a Marine in Afghanistan, he suffered a traumatic brain injury (TBI) caused by an explosion during combat. He has spent the last year in a rehabilitation facility and is ready to be discharged. Although Terrence feels he is ready to move out on his own, he is anxious as he is still adjusting to using a wheelchair and regaining cognitive and motor skills. Terrence will also need behavioral support to help him learn to manage his PTSD when it is triggered. He is coping with depression and has trouble sleeping. While Terrence's mother lives nearby, she works full-time and would not be able to provide the daily support that he needs. Terrence needs help identifying and securing housing in a community with supports for him to live independently including accessibility adaptations.
Terrence would like to have his own apartment or home.
Having a daily routine is important to managing Terrence's anxiety.
He enjoys getting outside and learning new things.
Terrence would like to get a pet once he moves into his own place.
He enjoys Sunday dinners with his mother and going to baseball games with friends.
Terrence has a small but emotionally supportive group of family and friends, including his mother, sister, and two best friends, who have been there for him since he's returned. His mom wishes she could help more but with a full-time job she is not able to provide the daily supports he needs.
Traumatic Brain Injury (TBI)
Post-traumatic Stress Disorder (PTSD)
Depression
Generalized Anxiety
Terrence needs support developing self-care skills to overcome symptoms of PTSD, depression, and anxiety that interfere with his ability to fully transition to life outside of the military and make connections with others.
Terrence suffers from flashbacks and nightmares from the explosion that trigger his PTSD leading to sleep problems and panic attacks.
Terrence will need support, training, and assistance with activities of daily living, such as eating, dressing, and personal hygiene.
Terrence needs ongoing physical and occupational therapy to support relearning and regaining cognitive and motor skills.
He experiences memory problems and difficulty focusing or concentrating that make certain tasks like paying bills, remembering to take his medications, and housekeeping hard to do.
Terrence qualifies to receive long term services and supports from the Maryland Department of Health's (MDH) Community Options (CO) Waiver. Our Supports Planning services will help him coordinate and navigate his services as a participant in the CO Waiver. Since Terrence is just moving back into the community from a rehabilitation facility, his Supports Planner's first objective will be to support his transition. Terrence's Supports Planner will help him:
Identify housing in a secure and safe community; conducting an environmental assessment to make sure the housing is accessible and ensure that he has adaptive equipment to meet his needs.
Complete his Plan of Service (POS) and identify providers to ensure that he gets the daily supports and assistance he needs.
The identified personal assistance provider will assist Terrence with activities of daily living (ADLs), such as bathing, grooming, getting out of bed, and cleaning. They will also help Terrence with instrumental activities of daily living (IADLs) such as money management, medication, grocery shopping, preparing food, laundry, paying for his utilities, and transporting him to doctors' appointments.
The Supports Planner can help Terrence access Money Follows the Person (MFP) funds if he would like financial assistance with the costs of transitioning from the rehabilitation facilitation into the community.
Terrence's Supports Planner will also coordinate nurse monitoring to oversee his medication management and behavioral health needs, and support coordinating medical appointments.
On transition day, Terrence's Supports Planner will be there to make sure that everything he needs is there, ensuring the move goes smoothly, that Terrence is comfortable, and that his Personal Assistant is coming to support him.
Terrence's Supports Planner will coordinate tenant training for him through the Maryland Department of Disabilities (MDOD). This training will ensure that he is a successful tenant and knows what to do to keep his housing.
Once Terrence is in his new home, his Supports Planner will continue to monitor his services monthly (or as needed) to make sure that he is getting the supports he needs from his provider.
Learn more about our Supports Planning program here.